I love energy bites. They are straightforward to make, require only a few ingredients, and offer various possibilities for customization. Even during busy mornings, there's always time to grab one. I prepared a coffee version this time, and now I encourage you to try it too!
Why? Because
The preparation is quick and convenient
The bites will give you an energy boost
They are satisfying and filling
They contain nutritious ingredients!
Ingredients for Coffee Energy Bites
Half a cup of rolled oats
1/3 cup of peanut butter
1 tsp honey
1 tbsp maple syrup
1 tbsp coconut oil
2 tbsp chia seeds
2 tbsp ground flaxseeds
1 tbsp ground coffee
Approximately 2 tablespoons of finely chopped dark chocolate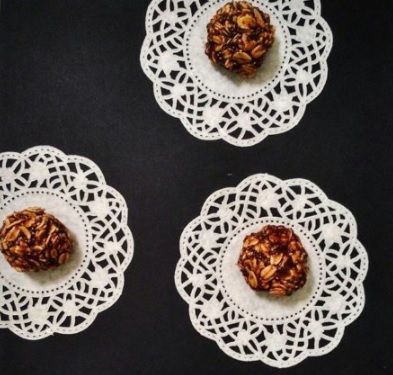 Instructions
First, heat the coconut oil, then mix in
the peanut butter,
honey,
and maple syrup.
Afterward, add the chia seeds, flaxseeds, ground coffee, and chocolate.
Stir the ingredients until you achieve a smooth mixture. You can use a spoon or your hands to shape the mixture into small balls.
If the mixture does not hold together well, dampen your hands slightly or add some grated carrots. If it is too sticky, you can add more coconut flakes.
With this amount of ingredients, I made 9 energy balls. They can be stored in a container in the refrigerator for up to a week.
If you want a cool option for the afternoon, too: try affogato coffee!