Today, I'm thrilled to dive into the captivating world of specialty coffee roasting. Let's uncover the secrets behind this delightful process and how it elevates our beloved beans to a new level. How is specialty coffee born? My roaster friend helped me with the answers!
What is Roasted Coffee?
Before we delve into the captivating journey of coffee roasting, let's start with the basics. Coffee, in its raw form, is known as green coffee. But when the transformational magic of roasting comes into play, these green beans undergo a beautiful metamorphosis, becoming the rich, aromatic gems we know and love as roasted coffee. So, what exactly happens during roasting, and why do we go through this process?
Why Do We Roast Coffee Beans?
Roasting coffee beans is crucial in the coffee production journey because it unlocks the delightful flavors and captivating aromas hidden within those unassuming green beans. We usher in the Maillard reaction through the precise application of high temperatures. This fascinating chemical process releases the aromatic compounds that make each cup of coffee an unparalleled experience. The result? A symphony of flavors and fragrances that dance on your palate and invigorate your senses.
What is the Maillard reaction?
The Maillard reaction is a chemical process during coffee roasting, transforming the beans into aromatic delights.
When heat meets the amino acids and sugars in the coffee beans, a complex dance of reactions ensues, creating new flavor compounds. This reaction is responsible for our favorite coffee cup's captivating aroma and flavor notes, from the delightful caramel and nutty tones to the tantalizing hints of chocolate and spices.
As the Maillard reaction progresses,
the beans undergo a delightful metamorphosis,
releasing a symphony of aromas that captivate our senses.
The precise control of roasting time and temperature allows coffee roasters to fine-tune the flavor profile, ensuring a harmonious balance of taste notes.
The Art of Roasting: Balancing the Maillard Reaction
Expert coffee roasters can manipulate the Maillard reaction to craft the perfect roast every time.
Light roasts preserve the bean's original characteristics,
while medium and dark roasts intensify the Maillard reaction,
unveiling distinct flavors.
How is Coffee Roasted?
Now that we understand the 'why,' let's explore the 'how' of coffee roasting. This process can vary widely, and different roasting methods yield distinct taste experiences. Imagine tasting notes like strawberries, apricot, or cocoa in your coffee.
These flavor profiles are influenced by factors such as the origin of the beans, the coffee variety, and the precise roasting technique employed.
While Brazilian coffee might have chocolaty undertones,
Ethiopian coffee might evoke memories of ripe strawberries and a hint of black tea.
The possibilities are endless and make coffee exploration an exciting adventure!
Coffee Beans for Roasting: They are Selected Carefully
We go to great lengths to select the finest green coffee beans to ensure the highest quality in our roasting endeavors. We receive samples from distant coffee-growing regions, and it's like a race against time to secure the best lots with exceptional flavors and unique qualities. This meticulous selection ensures that only the most outstanding coffees enter our roaster.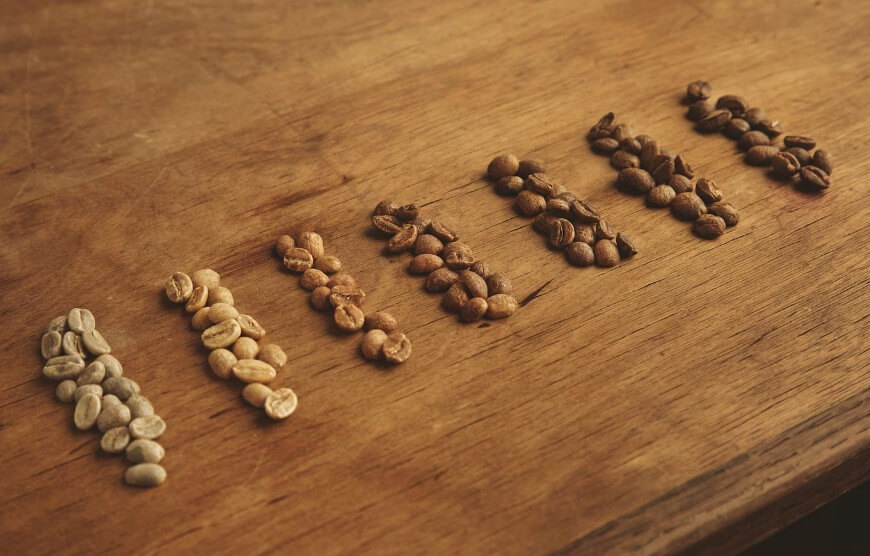 Coffee Roast Levels
One size does not fit all in the world of coffee roasting. Different beans, origins, and varieties demand various roasting profiles to unlock their true potential.
From light roasts that highlight the coffee's unique origin flavors
to medium roasts that balance acidity and body,
and finally, the robust and intense dark roasts that boast rich flavors –
Each roast level creates a distinct coffee experience. It's like painting with flavors; we strive to find the perfect brushstrokes for each batch.
Dark Roasted Coffee: Unleashing Bold Flavors
Beans undergo prolonged exposure to high temperatures, producing a deep, dark color and robust flavor.
Boasts a bolder body and lower acidity, ideal for those seeking a full-bodied and intense coffee experience.
Rich and complex flavors, with hints of dark chocolate, toasted nuts, and caramelized brown sugar.
Medium Roast: Striking the Perfect Balance of Flavor and Aroma
Roasted at moderate temperatures to preserve the coffee bean's original characteristics.
Offers a well-rounded cup with a medium body and a pleasing acidity.
A symphony of flavors, from fruity and floral to subtle cocoa and brown sugar notes.
Light Roast: Embracing the Essence of the Coffee Bean
Roasted at lower temperatures for a shorter duration to maintain inherent flavors and acidity.
Light body, bright acidity, and invigorating zest on the palate.
Showcases floral flavors, citrusy undertones, and delightful fruity notes for a vibrant and refreshing cup.
Coffee Roasters Taste Every Batch
You might wonder how the producers ensure consistent excellence in every batch. Well, they leave nothing to chance. Their commitment to quality drives them to taste every single batch they roast. This process, known as cupping, involves slurping coffee loudly from a spoon. It is a rather amusing sight but an essential ritual in our quest for perfection. It allows the roaster to evaluate the coffee's 
flavors,
aromas,
and overall quality,
ensuring that the coffee roaster delivers a consistently exceptional coffee experience.
So, there you have it – a glimpse into the captivating world of specialty coffee roasting. If you have any questions, let me know!